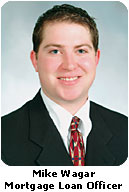 Welcome To Hovey-Kaiser's NEW Mortgage Service!
Our partnership with Westfield Mortgage enables us to bring you an online Instant Pre-Approval, which will provide you with real buying or refinancing power through their partnership with Fannie Mae, the nation's largest source of financing for home mortgages. You may also talk with an advisor to qualify you for a loan, offer advice and answer any questions you may have. Let us help you unravel the "Mortgage Mystery" and provide the service level you deserve in obtaining a home loan.
This service is provided by Westfield Mortgage with no obligation. To learn more about their services, please call Hovey-Kaiser's Personal Loan Advisor, Mike Wagar, at (866) 525-5626 ext 215.
"Our team will walk you through the mortgage process, from pre-approval to closing. And when you move, Westfield Mortgage moves with you. You can count on us for the support you need after your loan has closed".
Find out how Westfield Mortgage adds value to your purchase or refinance.
Call Mike at (866) 525-5626 ext 215 or visit us at www.westfieldmtg.com.